World Day against Trafficking in Persons 2021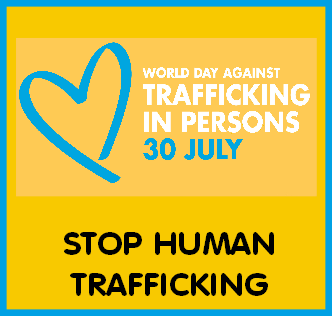 World Day against Trafficking in Persons is held on July 30th each year.  This year the theme set by the UN is "Victims' Voices Lead the Way". This focus aims to put victims of human trafficking at the centre of a campaign that will highlight the importance of listening to and learning from survivors of human trafficking.
The campaign portrays survivors as key actors in the fight against human trafficking and focusses on the crucial role they play in establishing effective measures to prevent this crime, identify and rescue victims and support them on their road to rehabilitation about this campaign Click Here.
People trafficking and modern day slavery remains a massive worldwide problem with very few countries immune to this injustice. Some of the information here has been published before on this website. For example the fact that today more people suffer the pain of slavery through human trafficking than during the entire 400 years of the transatlantic slave trade.
Human trafficking is not reducing, it is increasing rapidly.  In the past eight years the estimated number of human beings enslaved has grown from twenty-seven million to over forty million. 
FACTS ABOUT TRAFFICKING
Trafficking comes in many forms, including:
– Forcing victims into prostitution.
– Subjecting victims to slavery or involuntary servitude.
– Compelling victims to commit sex acts for the purpose of creating pornography.
– Misleading victims into debt bondage.
It's estimated 80% of trafficking involves sexual exploitation, and 19% involves labour exploitation.   
Nearly 70 percent of victims are female and many are children.

After illegal drugs and arms trafficking, Human trafficking is the third most lucrative international crime.

It reportedly generates a profit of $32 billion every year. Around half which is made in the developed world.

Victims come from all age groups, however many are female and under 18 years old.

Only 1-2 percent of victims are rescued.

Only 1 in 100,000 Europeans involved in trafficking are convicted.

Approximately 30 million children have lost their childhood through sexual exploitation over the past 30 years.
During the coming week a series of six short videos, produced jointly by the SMA and OLA Justice and Communications Offices will be published on SMA and OLA media platforms, including this website.  These will focus on Ireland and its response to Human Trafficking.
The information in these videos is based on the latest edition of the Trafficking in Persons Report (TIP) published in June 2021 by the US State Department.  This is the world's most most comprehensive report on Human Trafficking and ranks each government on its anti- trafficking efforts.   The video series begins by defining Human Trafficking and then looks at;
Human Trafficking law enforcement in Ireland
Human Trafficking and the Pandemic
Human Trafficking and Protecting Victims in Ireland
Human Trafficking – Ireland's TIP Ranking
Human Trafficking – Ireland's prevention efforts
To view these videos please return each day over the coming week.
FRATELLI TUTTI & Human Trafficking
"even though the international community has adopted numerous agreements aimed at ending slavery in all its forms, and has launched various strategies to combat this phenomenon, millions of people today – children, women and men of all ages – are deprived of freedom and forced to live in conditions akin to slavery… Today, as in the past, slavery is rooted in a notion of the human person that allows him or her to be treated as an object… Whether by coercion, or deception, or by physical or psychological duress, human persons created in the image and likeness of God are deprived of their freedom, sold and reduced to being the property of others. They are treated as means to an end… [Criminal networks] are skilled in using modern means of communication as a way of luring young men and women in various parts of the world".[21]